Corwin
CORWIN is a team of specialists with the mission to develop the city in a positive and responsible way. For over 10 years, we have been using tested urbanistic principles to create the most advanced sustainable buildings on the market. The signature features of our work are green roofs, modern architecture, and the usage of innovative technologies.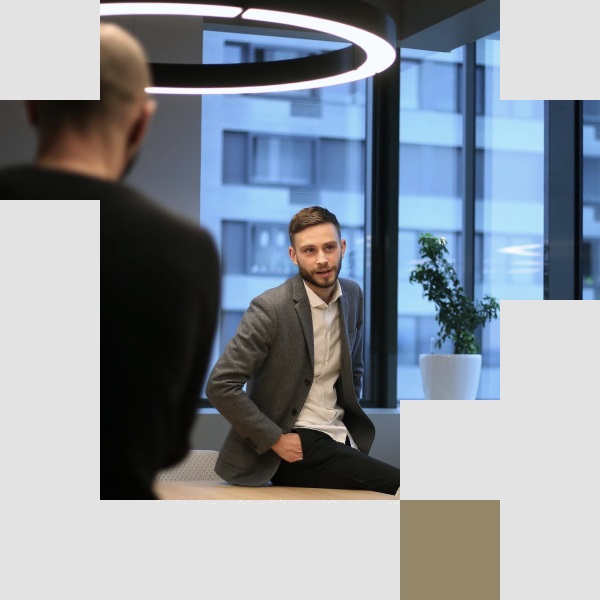 16 000

m2 +

of green roofs
17 000

m2

of green roofs in the pipeline
3 625

m2

of sportsgrounds and playgrounds
Developer of year
2016 & 2017 by people's choice
More than 10 years
of green architecture development
850 000 000

€ +

investment value of our projects
16 000

m2 +

of green roofs
17 000

m2

of green roofs in the pipeline
3 625

m2

of sportsgrounds and playgrounds
Developer of year
2016 & 2017 by people's choice
More than 10 years
of green architecture development
850 000 000

€ +

investment value of our projects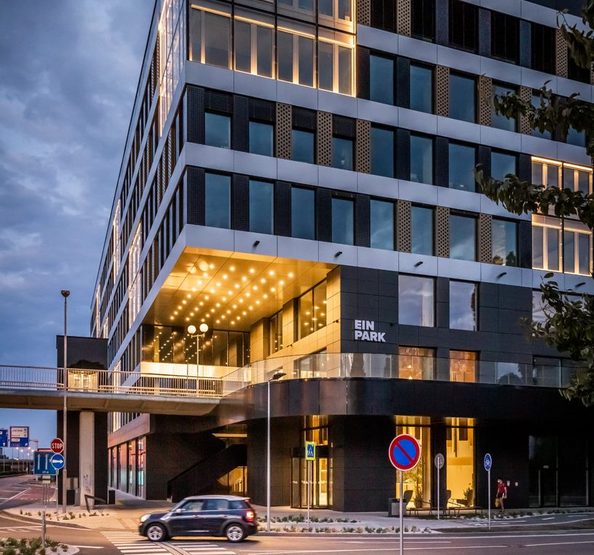 EinPark Offices
The Greenest Building in Slovakia Einpark Offices was designed from the ground up as an answer to the pressing need for modern, sustainable and energy efficient development in fast growing cities. It boasts state-of-the-art technologies and ranks among the top 1% of sustainable buildings in the world.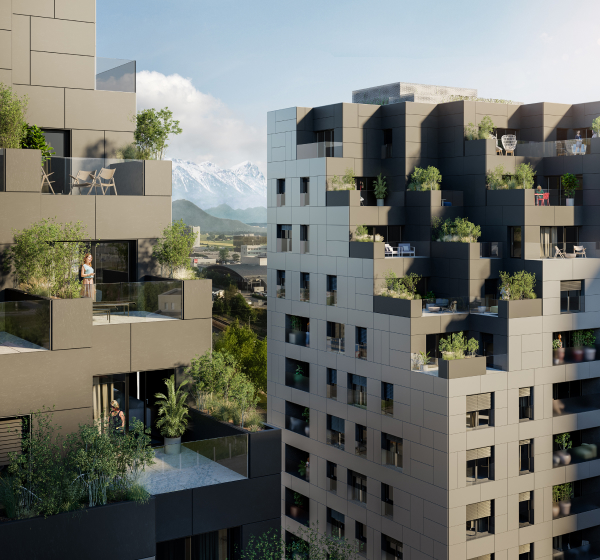 Kvartet
Kvartet is our first emerging residential project. Its four towers are designed by the renowed Slovenian studio OFIS Architecs to resemble the Alps it overlooks. Situated in the popular Šiška district, right next to a modern shopping centre, kindergarten, pharmacy and other amenities. Kvartet is set to become the beating heart of a thriving new neighbourhood.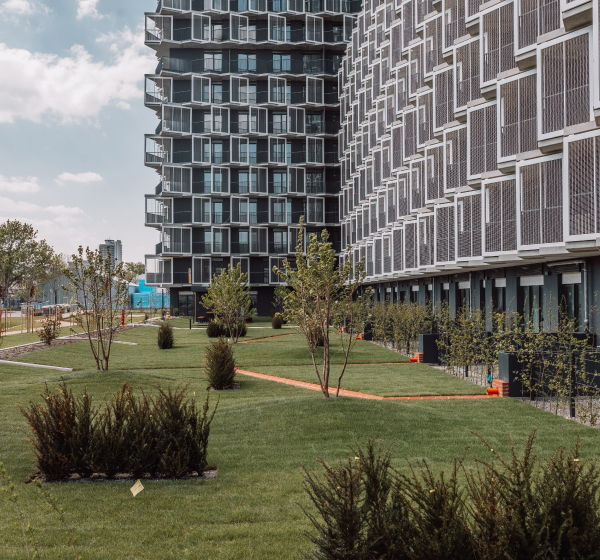 Guthaus
Guthaus is our biggest residential project to date, combining the expertise of four world-renowned studios. It is at the beginning of an ambitious transformation from a neglected industrial site into full-fledged, lively neighbourhood and the focal point of local city life. Modern architecture and people-centred urban design combined with excellent transport connections, rich civic amenities, lush greenery and unlimited access to nature create ideal conditions for perfect urban living.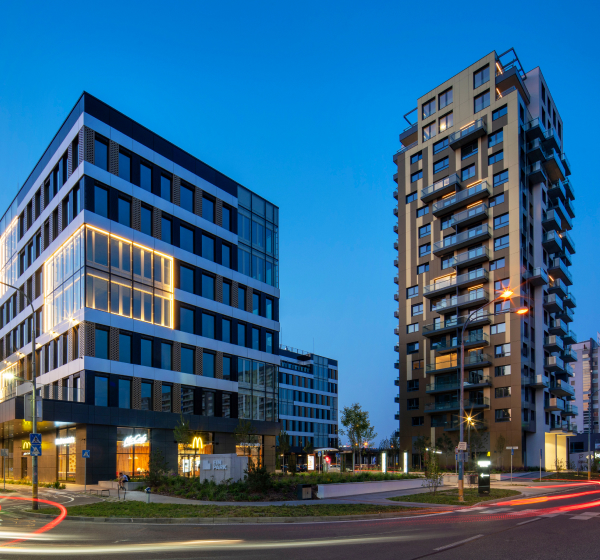 EinPark Rezidencia
Thanks to a carefully measured combination of housing, offices and public amenities, Einpark transformed this unused plot of land along Einsteinova Street. It helped to overcome a barrier, the result of perhaps missguided planning of the past, and to restore the connection of the most highly populated Bratislava district with the city center.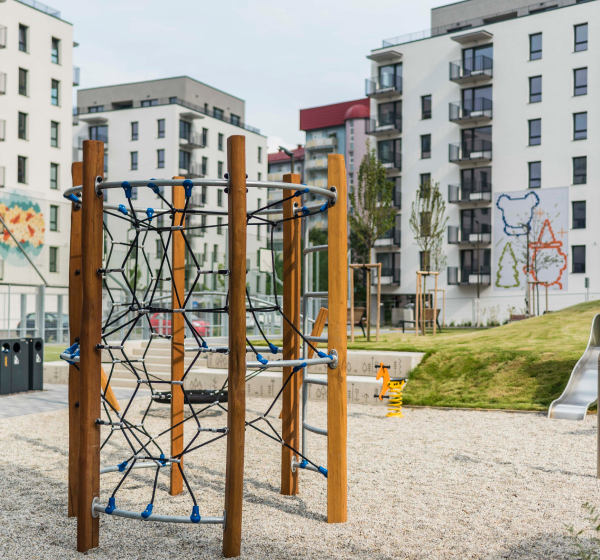 Dúbravy
A housing development in one of the greenest parts of Bratislava, Dúbravka, focused on family and community living. A place to play games or sports, meet with neighbours, or grow your own tomatoes. On top of that, a large-scale mosaic on each house - a unique piece of art by eight different Slovak artists.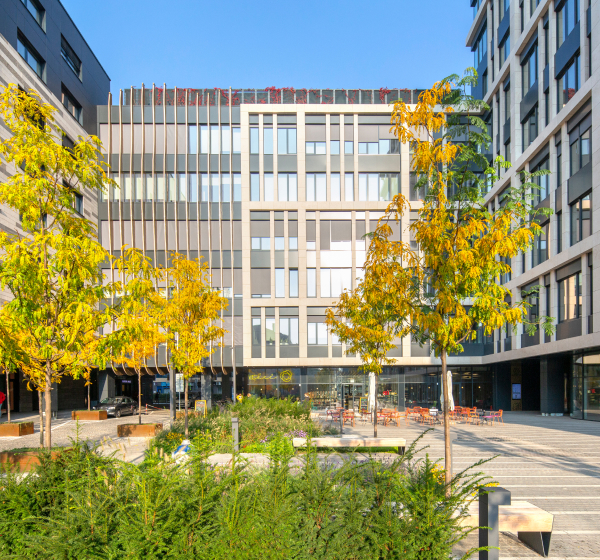 Blumental Offices
Blumental Offices are part of an award winning housing development which turned a run down site of Bratislava's suburb into a proper, full-fledged, living and breathing part of the city. Thanks to a sensible scale of the new structure respecting the contours of the old town, the project expands the boundaries of the city centre.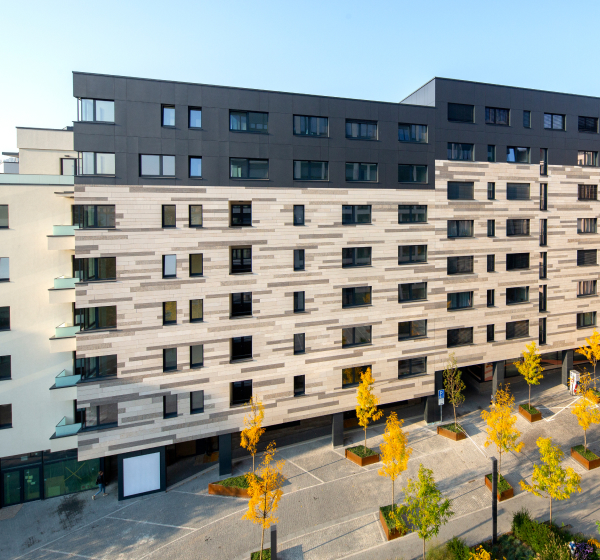 Blumental Rezidencia
In short, our flagship project. The purpose of this award winning development was to regenerate a derelict site just outside the city center and elevate it to the level worthy of its prominent location. The development brought new homes, office and retail space, as well as a brand new town square, to the area.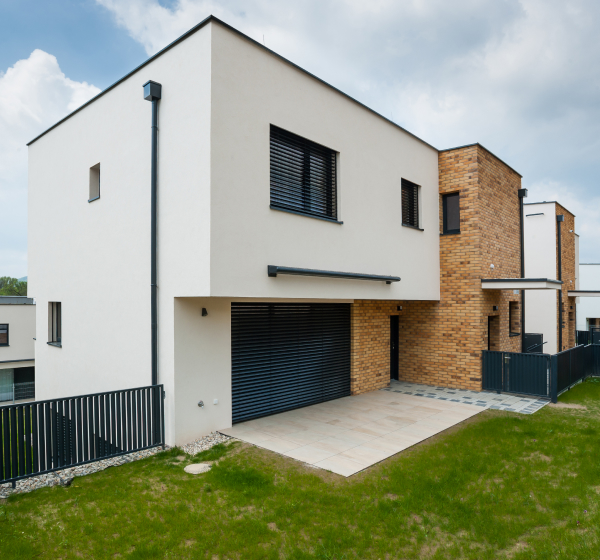 Záhrady Devín
What do you do, when you "inherit" a project which faced so much opposition from local residents and the council alike, that the previous developer couldn't get it off the ground (literally!) for 10 years? Replacing plans for 400 new homes with just 66 turned out to be a good start.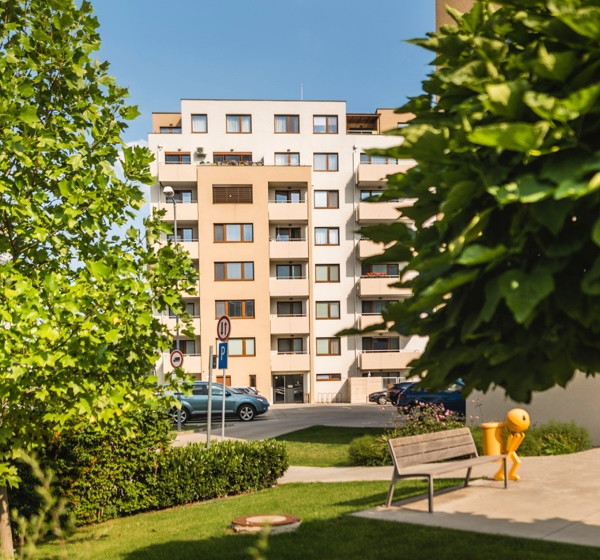 Rinzle
Our "Hello World!" project. When we first came onto the scene, the public trust in property developers was almost non-existent. We had a vision of doing things better. Thanks to our honest approach and quality work, Rinzle has become a true launchpad for the success of our future projects.

Schmidt Hammer Lassen Architects is one of Scandinavia's most recognized and award-winning architectural practices. For over 30 years, they have been creating world-famous projects based on Nordic architectural traditions of democracy, welfare, aesthetics, light, sustainability and social responsibility. They are a part of Perkins&Will – global architecture and design firm operating since 1935.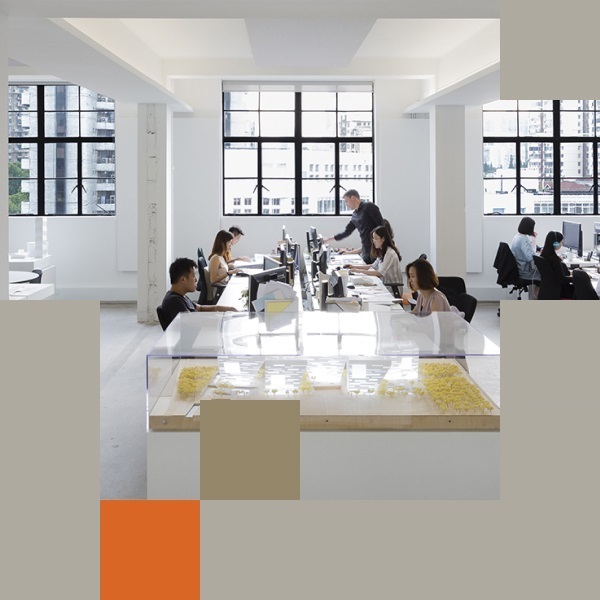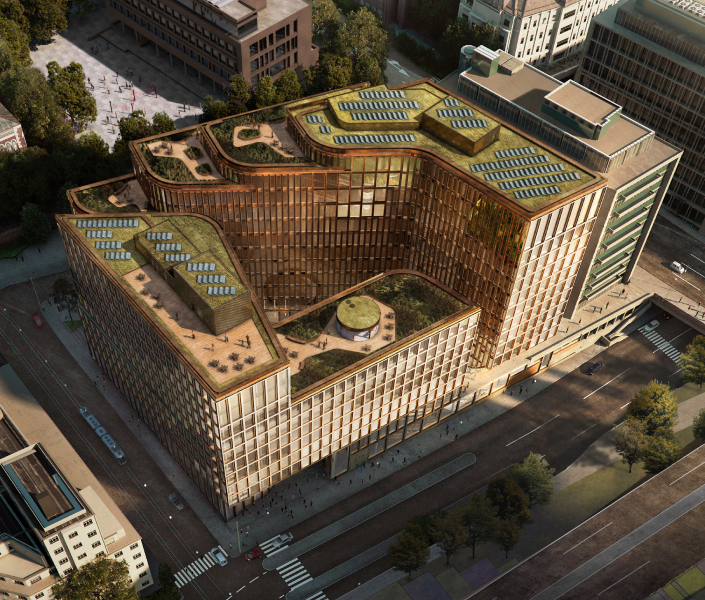 Via
Oslo
Size58 500 m2
LocationOslo, Norway
SustainabilityTargeting BREEAM Excelent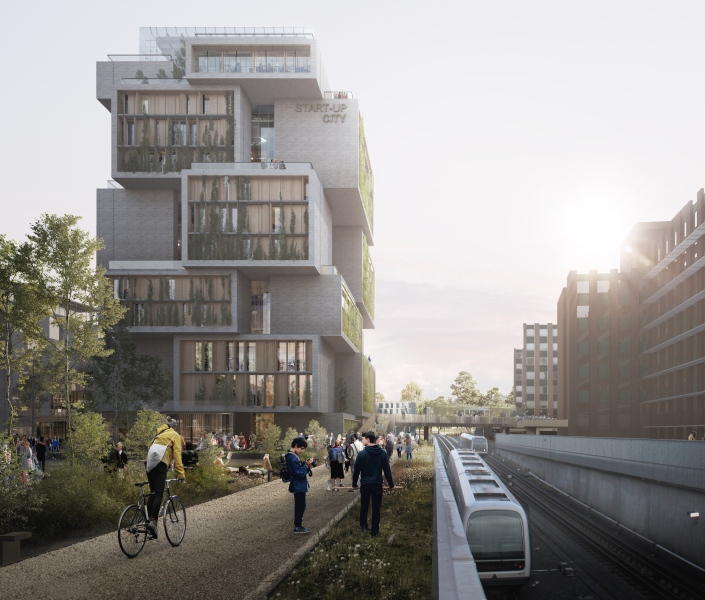 Start-Up City
Frederiksberg
Size15 500 m2
LocationCopenhagen, Denmark
SustainabilityDGNB Silver certification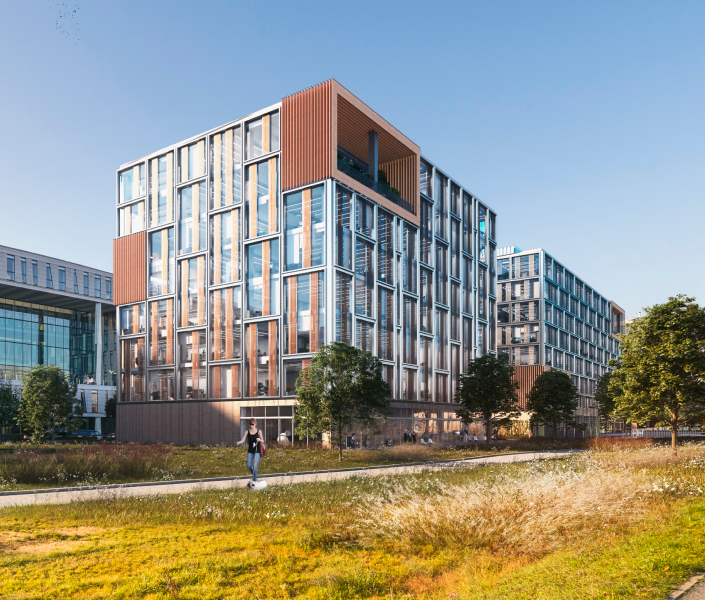 River City
Prague
Size32 105 m2
LocationPrague, Czech Republic
SustainabilityTargeting LEED
Platinum and WELL Platinum
"The role of the architect is to research and evaluate on the many many aspects to mind when designing a new building, such as Vilharia. So I would say that the most important aspect is to get the right people together and navigate the project so it benefits the most – the users, the neighbours, the city, the planet."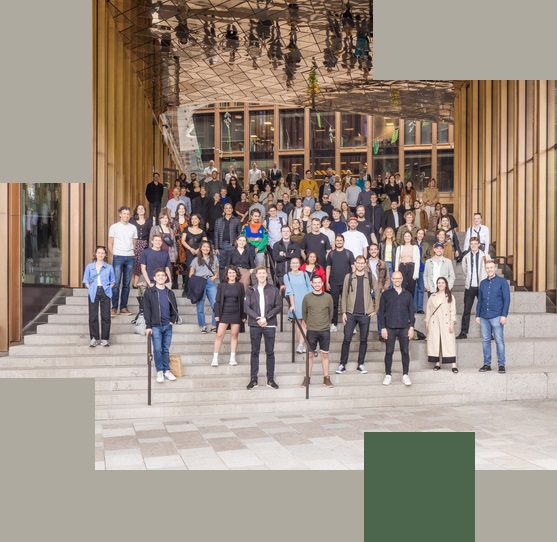 Are you interested in new premises?
Contact us