Vilharia aims to replace underused land covered by concrete with an open, modern, sustainable building with green roofs that will eradicate negative effects on the city and help uplift the surrounding neighbourhood.
Technologies
A fine-tuned
workspace
Vilharia was imagined as a place where nothing can compromise the perfect indoor environment. The building design is based on people-friendly Scandinavian tradition combined with innovative LEED strategies that have been tried, tested and improved for over 30 years. Lightness, air quality, temperature and many other interior parameters are carefully optimized to ensure greater satisfaction, better health, and productivity of its tenants.
Natural Light
Triple glazed windows with openable panels, no sill and external shading ensure perfect lighting and uncompromising indoor comfort.
Smart Building Control
Vilharia provides BMS, automatic CO2 monitoring system, advanced filtration and fresh air exchange at 50 m3/person/h.
Heat Pumps
The most energy efficient source of heat and cold ensures perfect comfort inside the building while being exceptionally kind to the environment.
24/7 Security
And advanced CCTV monitoring system for extra safety.
Raised Floors
With floor convectors and stable air circulation provide a uniform distribution of heat.
EV Compatibility
Parking and chargers for electric vehicles are a must for a modern building.
"Our company was built on the idea that development can be done better. That sustainability is not just a buzzword but a necessity. It was built on the idea that a few dedicated individuals can work together and really make a difference.
In our 10+ years of operation we have revitalized multiple brownfields, built 16 000 m2 of green roofs and completed 11 unique projects."
Marián Hlavačka CEO, Corwin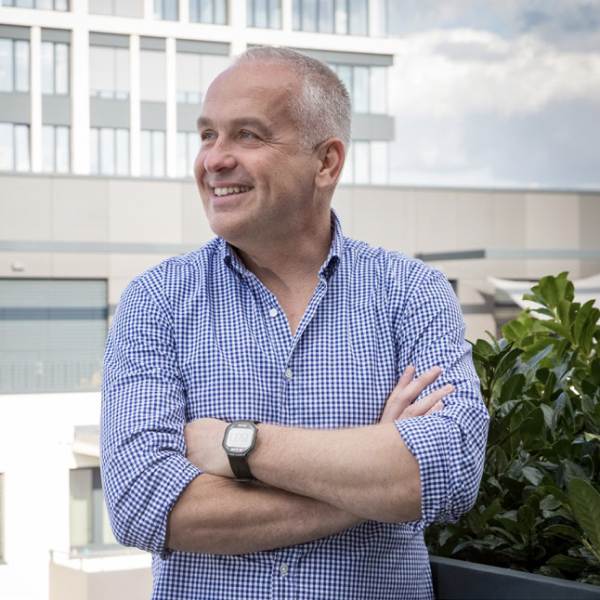 Architecture
Let there be light!
be light!
The crystalline structure of the building was delightfully formed to play with contrast and light, creating a vibrant, eye-pleasing platform. The building merges the principles of mesmerizing symmetry and wilderness through the creation of a cubic grid of frames and luscious greenery that form a living ecosystem.
An illuminating
approach
Good lighting is the alpha and omega of a pleasant and efficient workplace. Well-lit spaces reduce fatigue, prevent headaches and improve productivity.
Large windows with outside letting in daylight and connecting the inside with the outside
Openable window panels
Atriums allowing daylight to penetrate deep into the floorplates
Elevated courtyards allow free access to the exterior and more daylight to enter the building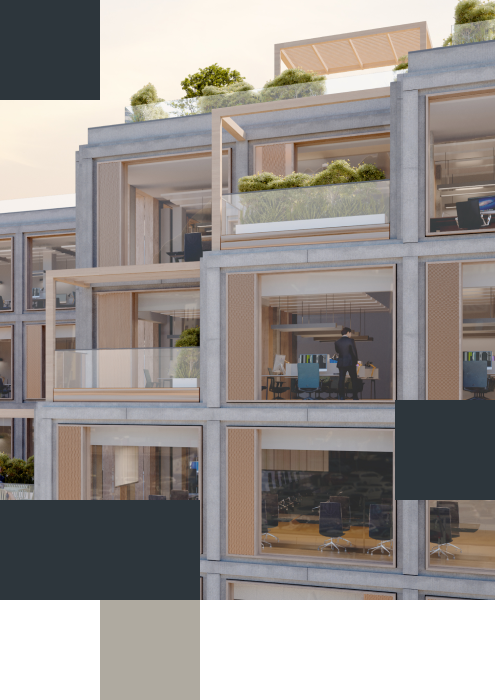 The highlight
of modern
architecture
The project is conceived under a strong modular structural concept, allowing maximum flexibility and adaptability, both in plan and in façade.
Adaptable layout which allows for freedom in design
Barrier-free (universal accessibility)
Open and inviting ground floor
Flexible mix of vibrant community areas and relaxing private spaces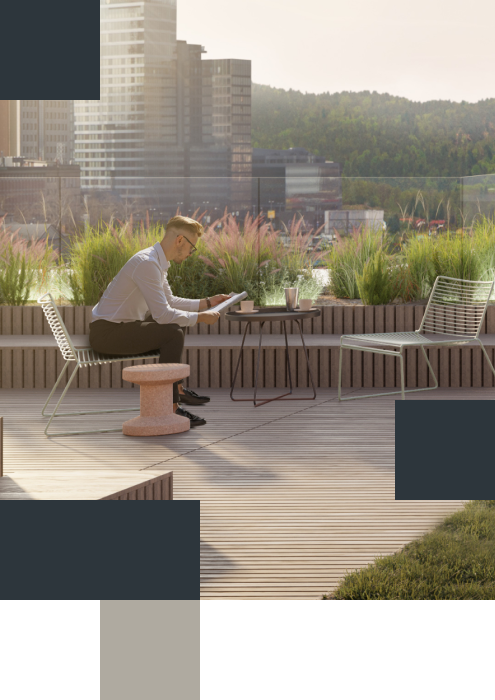 Spark for
a happier life
Vilharia was created with people in mind. It provides a nurturing atmosphere, so everyone can find serendipity and sense of ease anywhere in the hub.
Interior atriums and private terraces for informal meetings and exchange of ideas
People-friendly design and wide use of natural materials
Insulating windows to minimize noise pollution
Perfect accessibility to parking, public transport and Ljubljana's central transport hub